Have instant access to clean and drinkable water no matter where you may be with a personal water filter. Perfect for hiking, backpacking, camping, fishing or any other outdoor activities, personal water filter is a simple, easy to use device to give you safe, drinkable water. Also perfect for emergency use.
1. Survivor Filter – Reusable Personal Water Filter with Triple Absolute Filtration to 0.05 Microns. Comes Assembled with Cleanable Ultra Filter, Replaceable Carbon Filter and 6 Cotton Pre-Filters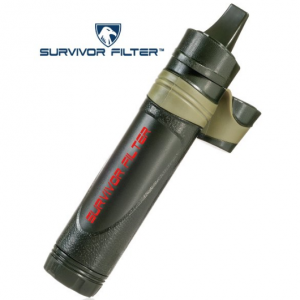 If you are a hiker or survivor enthusiast, then the Survivor Filter is a must have. This personal water filter is proven to eliminate bacteria, reduce heavy metals and filter to 0.05 microns. The reusable and replaceable filters last up to 264 gallons and can then be easily cleaned or replaced as needed so you don't need to throw it out after one trip. The easy flip-on, flip-off mouthpiece cap keeps cap clean. Lightweight at only 3.5 ounces. Can easily fit in your glove box, tackle box, etc.
Check user reviews and latest prices on Amazon
2. LifeStraw Personal Water Filter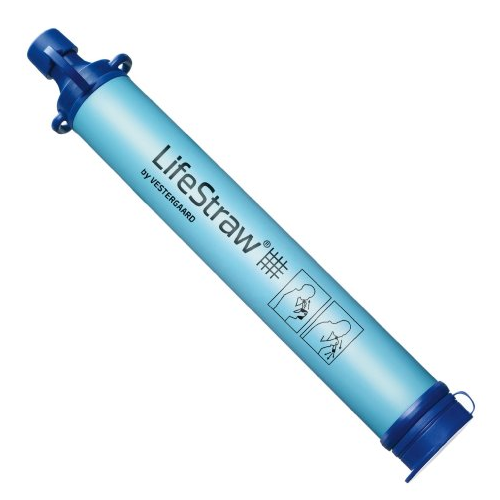 Your search for the fastest way to filter when hiking, camping, traveling, hunting or for emergencies is finally over. The LifeStraw Personal Water Filter features a high flow rate and weighs only 2oz, making it a compact, ultralight solution for clean drinking water in the field. It removes 99.99% of bacteria and protozoa. Contains no chemicals, no batteries and no moving parts to wear out. Comes in a sealed bag.
Check user reviews and latest prices on Amazon
3. Etekcity 1500L Water Personal Filter Purifier Chemical Free: Filter to 0.01 Microns – Perfect Survival Gear, Blue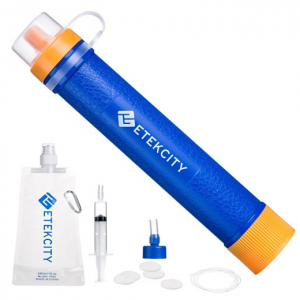 Access clean water anywhere with the Etekcity 1500L Water Personal Filter. This handy and portable water purifier can filter up to 1500 liters of water, eliminating 99.9999% of coli bacillus, legionella, heavy metal ions, chlorine, volatile organic compounds (VOC), organic and insect contaminant. It comes with a extension tube, pre-filter, backwash device and foldable water pouch. Perfect for outdoors hikers and campers or emergencies.
Check user reviews and latest prices on Amazon
4. Sawyer Products Mini Water Filtration System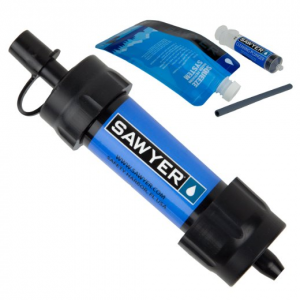 Compact, light and versatile, the Sawyer Products Mini Water Filtration System is perfect for outdoor recreation, hiking, camping, international travel and emergency preparedness. The filter removes 99.99999% of all bacteria as well as other harmful bacteria which causes cholera and E. coli and 99.9999% of all protozoa such as giardia and cryptosporidium. For use, attach the filter to the included drinking pouch, standard disposable water bottles, hydration packs, or use the included straw to drink directly from your water source.
Check user reviews and latest prices on Amazon
5. Best Camping Water Filter with Triple Layer Filtration to 0.01 Micron & LIFETIME WARRANTY- Acquapura Personal Water Filter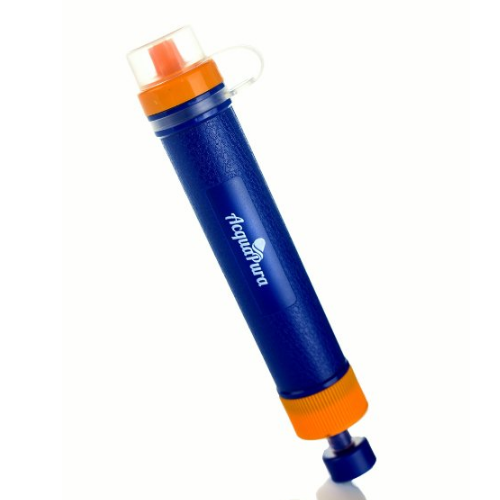 Love camping, hiking, fishing and any other outdoor activity? The Acquapura Personal Water is perfect for you. Ultralight and simple to use, this filter contains no chemicals or batteries and filters 400 gallons of water at up to 400ml (14oz) per minute. You can use it directly from a fresh water source or with a water bottle. Perfect for any all situations where you need clear, safe and drinkable fresh water.
Check user reviews and latest prices on Amazon