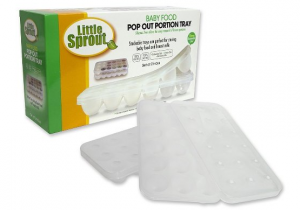 Baby food freezer tray is a smart, safe, and simple way to freeze homemade baby food. Not only is it cheaper than buying pre-made foods, but it also allows you to get to choose the best ingredients for your baby. A great system for mothers who are returning to work, the baby food freezer makes healthy homemade baby food easier.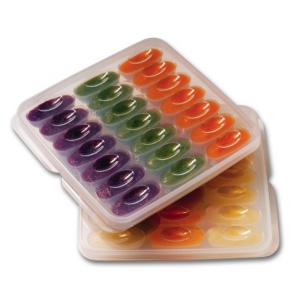 Make it easy to freeze and store big batches of healthy, home-made baby puree and food for older babies with the Mumi&Bubi Solids Starter Kit. The kit includes 2 premium stackable compact baby food freezer trays with lids to eliminate spills, contamination and freezer burn. Each tray offers 21 x 1oz cubes for maximum storage. Easy to remove, simply press on one end of the cube and it will slide out the other end. BPA-free and PVC-free for peace of mind.
Check user reviews and latest prices on Amazon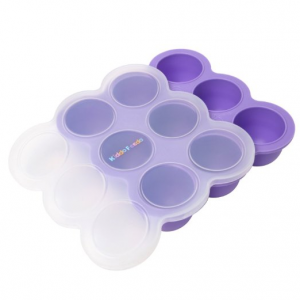 Tired of those freezer trays that are difficult to pop off and put back on when frozen? Turn to the Kiddo Feedo Freezer Tray. Made of premium quality food-grade silicone, the freezer tray has wider, round cubes allowing you to release portions individually or as many as you need without disturbing the other cubes. It comes with a silicon lid that protects your food whilst in the freezer and can be labeled with a ball-point pen. BPA, Phthalates and other toxins free. Stackable to save valuable space in the freezer.
Check user reviews and latest prices on Amazon
3. Homemade Baby Food Storage Solution, Silicone Freezer Tray with Lid. Makes 9 X 2 Oz Cubes. BPA Free, Non Toxic. Lifetime Guarantee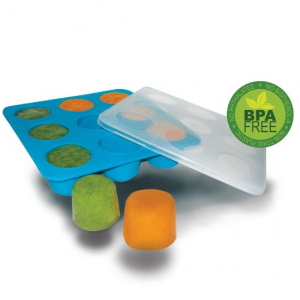 Healthy homemade baby food has never been so easy to make with the Jump Tots Freezer Tray. Made from FDA approved high quality food grade silicone, this freezer tray is free of harmful toxins, BPA, Phthalates, PVC and Nitrosamine. The nonstick tray makes removing cubes easier. Comes with clear snap-on lid to prevent food contamination and allow trays to be stacked. Freezer, Dishwasher, Microwave and Oven safe.
Check user reviews and latest prices on Amazon
4. Silicone Baby Food Freezer Tray with Clip-On Lid, Makes 9 X 2 Oz Cubes, BPA Free, FREE 31 Page EBook with 25 Homemade Baby Food Recipes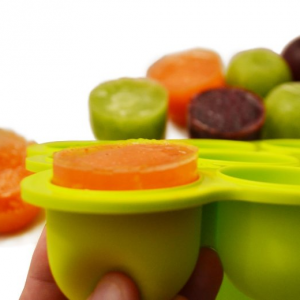 Your plastic baby food freezer trays always pop out all the cubes at once? This Silicone Baby Food Freezer Tray by Simple Kitchen Products won't let this happen. It features flexible silicone and non-stick design to provide you with easy to release portions cubes. Simply squeeze the bottom of the pod and the frozen food slides right out. The effortless clip-on silicone lid included to prevent spilling and also protect your food while being stored. Can also be used for breast milk storage, Baking Cupcakes, Ice Cube trays and more.
Check user reviews and latest prices on Amazon
5. Baby Food Storage Tray – Silicone Pop Out Portion Freezer Tray (2 Pack) – Breast Milk and Food Storage Made Easy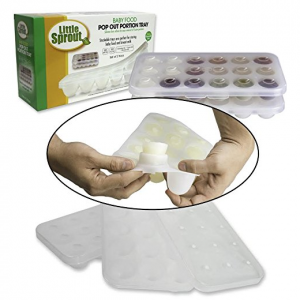 Need something simple to store homemade baby food or breast milk? Don't hesitate to buy this set of 2 Baby Food Storage Trays. 100% BPA and phthalate free, these stackable trays are safe for baby. Each cup holds 2 ounces for convenient portioning. The trays come with removable silicone liner allowing you to easily pop out frozen portions for reheating. Dishwasher, microwave, and freezer safe.
Check user reviews and latest prices on Amazon