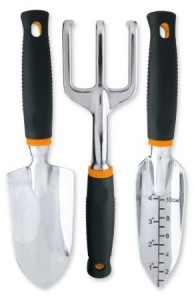 Product description
The Fiskars Softouch tools make it a breeze to dig, cultivate and transplant in the garden with comfort and durability. In order to reduce hand stress and fatigue, each soft, contoured handle has a natural fit to your hand and encourages a neutral wrist position. Compared with many other garden tools, the flat end pad of each handle features a smart way to generate more leverage. And cast-aluminum heads are rust-resist for lasting value and won't snap off while you're digging. So you don't have to worry when dig in tough soil area. In addition, the handles include hang holes for convenient storage.
Click here to see what others are saying…
The 3-Piece Softouch Garden Tool Set includes a trowel, cultivator and the transplanter. The trowel is great for digging when planting, taking up plants, turning up earth and more. The cultivator can be used to loosen soil, remove weeds and aerate soil with ease. And the transplanter features gradation marks to make transplanting small plants and flowers a breeze.
Key features
Short-handled garden set includes a trowel, transplanter, and cultivator
Trowel for digging when planting, taking up plants, turning up the earth and more; cultivator for loosening soil, removing weeds and aerating the soil with ease; transplanter for making transplanting small plants and flowers a breeze.
Single-piece, polished aluminum construction is durable, lightweight, rust resistant
Comfortable Softouch cushioned handles to reduce fatigue
Hanging holes provide easy storage
Backed by a lifetime warranty
Pros 
Won't rust since they are aluminum
Small enough for woman use while large enough to get your job done
Comfortable handles, comfortable to hold in hand
Well built and very affordable
Cons
Not powerful enough to handle hard ground