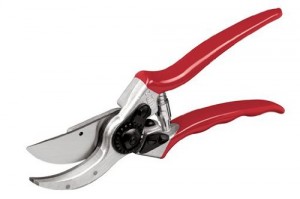 Product description
Featuring a design that's been unchanged for more than 50 years, these classic Felco pruners are well-made and welcomed by landscape professionals, nursery workers, and savvy gardeners around the globe. You can even customize blade alignment for more efficient operation with the easily-adjusted bolt and nut. Designed to reduce impact and strain on wrists, a rubber cushion with shock absorbers pads blades where they come together.
Click here to see what others are saying…
The Felco F-2 Classic Manual Hand Pruner comes with a comfortable, light, sturdy handle made of forged aluminum with a limited lifetime guarantee. Made of high-quality hardened steel, the blade delivers clean, precise cuts. The sap groove can be used to prevent the blade sticking when cutting "sappy" wood. It removes sap and debris after each cut, which means you can save more time and have easier pruning. The angled head provides hand and wrist protection and optimization of the force exerted. A non-corroding spring mechanism is covered with a metal sheath to protect from moisture.
Key features 
Ideal pruner for light applications and easily adjustable
Features strong blades with a wire cutting notch
Lightweight metal handles for added comfort and reduce strain on wrists
Blades are made of high-quality hardened steel for lasting for a long time
Limited lifetime warranty
Pros
Comfortable grip and sharp blades make the trimming easy
Cuts well and doesn't leave ragged edges
Easy to clean or replace the blade
Great quality and great leverage and cutting ability
Cons
A little bit pricey
Trouble to maintain