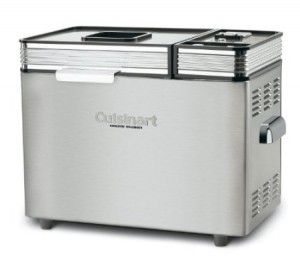 A bread maker or a bread making machine is a must have kitchen appliance. To make a loaf, ingredients are measured into the bread pan usually liquids first and the solid ingredients layered on top, the pan is then placed in the bread maker. This is important to keep the yeast and water apart until the process starts and the paddle starts mixing them.

It takes a few hours to make a loaf, the paddle turns the ingredients into dough, proofing the loaf and then baking it using ideal temperature control. The shape of the finished loaf was often considered unusual; however, recent machines give a more traditional shape.
Unofficially the best bread maker is, the Zojirushi BBC X20. Though priced a bit higher than the others it is worth every penny spend on it. It has two paddles, many cycles and modes, and bakes outstanding bread.
The Cuisinart CBK-200 is the first runner-up. This machine is less expensive and bakes uniformly browned bread. Though clean up is a bit difficult, owners have said this bakes great bread. The three year warranty makes it even more attractive.
The second runner-up is the Westbend Just-for-Dinner bread machine. It is a good buy for single men/women or small families. This machine makes smaller, round loaves instead of vertical loaves. Though a bit short of features it comes with a cheaper price-tag as well, but it does bake good bread.
Fourth comes the Breadman TR875, though a bit noisy it makes good bread and also is available at a much cheaper cost. It's all digital and has special settings for different types of breads.
With preset settings for several types of bread and adjustable speed and a special air circulation, Cuisinart Convection Bread Machine is the fifth best.
Pick up one of these that suit your needs and win hearts for the best baked bread loaves in the neighbourhood.