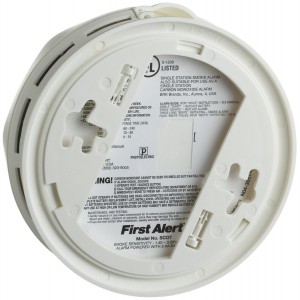 First Alert C 30615 is an easy to use plug-in Carbon monoxide detector. This particular brand ensures the highest accuracy among all the carbon monoxide detectors. The users love it because of its clear display showing current and highest CO levels. The alarm can be activated and deactivated by using a remote control which can work in the 12 foot zone. This machine has two AA batteries which work as a safety backup and it should be replaced after every 5 years.
Kiddle- KN-Cop-B is one of the finest carbon monoxide detectors available in market. The coolest feature is that if can be moved wherever you need the work to be done rather than sticking to a permanent place. This CO detector has a digital display showing current and peak Co level in the area. It also features a low battery alert and the user has to be alert of replacing the batteries every 2 years after the initial 5 year warranty is expired.
First Alert Onelink SCO 501 CN. This machine can connect with the other Onelink ditectors placing in other rooms of your big home. They run by battery and connect to other units using radio frequency. It does not have a display but has a voice alert which announces the danger zone. This comes with a 5 year warranty.
Kiddle- KN- COSM-B is a combination of CO and a smoke detector. This is battery operated and is useful for a small home. This has both a horn and a voice alarm. This machine does not have a display and it also comes with a 5 year warranty.
WS4913 – DSC Wireless Carbon Monoxide CO Detector is one of the smallest but most effective carbon monoxide detectors. This is wireless but does not have a display. This comes with a1 year of warranty and free tech support for the rest of your life.