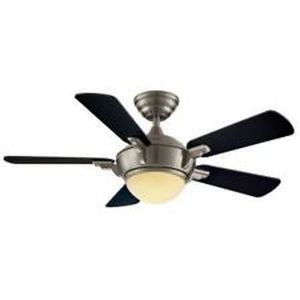 With modern technology touching all aspects of our life, home appliances like ceiling fans, washing machines and TVs are undergoing a major makeover to offers consumer superior technology, fantastic performance and energy efficiency translating to excellent cost-savings in the long run. Hampton Bay has been a pioneer in the ceiling fan sector with innovative models with skilled craftsmanship, elegant design and powerful motor, fitting stylish ceiling fans right in with your new elegant home for rapid cooling. Following is a round-up of the 5 best Hampton Bay Ceiling Fans designed to add a touch of elan to your home!
1.Hampton Bay Altura 56 in. Oil-Rubbed Bronze Indoor Ceiling Fan

The Altura ceiling fan features a classy oil rubbed Bronze finish with five hand-carved wooded walnut blades for a stylish and elegant look, fitting right in with your hand-picked room furnishing and rich, elegant upholstery and drapes The fan is light and easy to install, with a powerful motor to provide quick cooling with an energy efficient operation. This fan is ideal for large rooms measuring 20ft x 20ft, placing it at top spot in the 5 best Hampton Bay Ceiling Fans reviews.
Check user reviews and latest prices on Amazon
2.Hampton Bay Hugger 52 inches White Ceiling Fan With Light

This subtle yet powerful ceiling fan is your best option for flush-mount installations when you have concerns about the ceiling height. The Hugger 52 features reversible blades, with a traditional white finish on one side complimented perfectly by the bleached-oak blade finish on the other. An illumination facility is provided by an opal frosted dome light fixture, where a low-watt bulb can be fit for night reading. The Hugger 52 is a high performance motor with 52 inch blades providing rapid air circulation and quick cooling. This fan is perfect for rooms measuring 20 ft. by 20 ft.
Check user reviews and latest prices on Amazon
3.Hampton Bay Springview 52 inches Brushed Nickel Ceiling Fan 750809

Add a dash of color and style to your room with the trendy Springview 52 inches ceiling fan from Hampton. This fan has five brushed nickel reversible blades, three operating speeds, a bowl light kit with frosted white glass and there bulbs for illumination, and convenient pull chains for independent light and speed controls.The fan provides consumer quick, quiet and efficient air circulation an cooling.
Check user reviews and latest prices on Amazon
4.Hampton Bay Littleton 42 Inches Ceiling Fan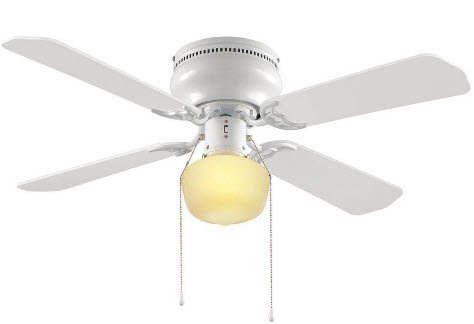 Placing fourth in the list of the 5 best Hampton Bay Ceiling Fans is the Littleton model.The Littleton 42 inch Hampton Bay model features four reversible blades with bleached oak blades and a white finish for a classy and elegant look, adding to the decor of your room. The fan also offers consumers a schoolhouse light kit with a frosted-glass globe shade for illumination. The fan is compact and ideal for rooms measuring 10 ft. x 10 ft. in size. Its three speed reversible operation provides rapid cooling and air circulation.
Check user reviews and latest prices on Amazon
5.Hampton Bay Hawkins 44 In. White Ceiling Fan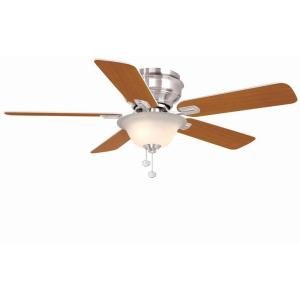 Rounding off the list of the 5 best Hampton Bay Ceiling Fans is the Hawkins model. The Hawkins model from Hampton Bay is perfect for rooms measuring 10 ft. x 10 ft. with low ceilings. This fan features a flush-mount design and an easy twist-and-lock installation method that adds to your decor while concealing hardware for a clean, easy to maintain installation. The Bracket Set system aids in quick installation and ensures the fan is stable during operation at high speeds. The Hawkins model comes with five reversible white and bleached oak blades that blends perfectly with a variety of decors making for an elgant and powerful ceiling fan.
Check user reviews and latest prices on Amazon