Get the Best Bike Lift for Your Bike
Bike lift hoists have great utility for people who live in defined spaces, especially apartments, where there are less rooms and less outdoor parking facilities. But cycling enthusiasts need not compromise on their love for cycling merely because of a lack of space. With bike lift hoists not only can you keep your house free of clutter, you can even mount your bike to the wall.
Here is a list of the best bike hoists available:
1.RAD Cycle Products Highest Quality Rail Mount Heavy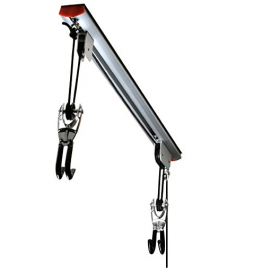 RAD cycle lift hoist is one of the best hoists available. Designed for both convenience and style, it ensures that your storage needs are well addressed. This bike hoist features rubber coated hooks that prevents the bikes from scratches.
It has the ability to withstand weight of around 100lb and can be hanged to a 12ft high ceiling. The strong latches and pulleys ensure that your bike remains safe, especially when hanged up. It can help you prevent any accidental release.
The safe locking mechanism of this bike lift hoist is what makes it the most preferable. The company has used a nylon rope which ensures both strength and smoothness. On the basis of such features, there is a lifetime warranty of the product.
The unique rail system is designed to allow you to mount horizontal or parallel to the ceiling. It does more work than standard ceiling hoists. Plus, the adjustable hooks allow easy spacing. Made of aluminum, there is a guarantee of no rusting.
Pros:
Lifetime warranty
No rusting or scratches to the bike
Strong locking mechanism
For different sizes of cycles
Cons:
The instruction manual is not helpful
Time consuming when installing the first time
Check out the latest prices at Amazon
2.ZipBike Bike Lift Hoist- Premium Ceiling Mounted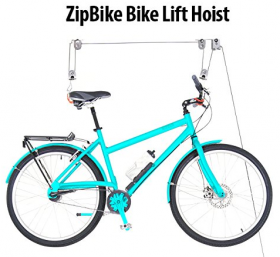 An Easy to install sturdy design with optimum performance, Zipbike lift hoist is another good option. Its key feature is the ergonomic design that makes lifting convenient and easier. Because of its reliable and durable design, this hoist provides effective storage facility. With the addition of strong rubber coated hooks, it ensures that your bike is safe from scratches.
Another great feature of this lift is that it can also lift a full 100lb bike, with trust. The durable manufacturing ensures that there are no accidental releases with the use of a sturdy rope and effectively designed rubber coated hooks. This product also comes with a safety rope lock mechanism that keeps the bike safe when suspended from the ceiling.
The installation of the product is easy.With the use of just clamps you can attach the lift to the bike and hang it anywhere desired. The locking mechanism ensures that it remains safe for as long as you want. The pulleys also work equally effectively. This product offers a 100% money back guarantee if the features do not work as promised
Pros:
Safe lock mechanism
100% money back guarantee
Rubber coated hooks and sturdy rope
Easy to install
Cons:
Rope is not effective for more than 45 pounds
Check out the latest prices at Amazon
3.myLIFTER Smart Bike Lift Ceiling Hoist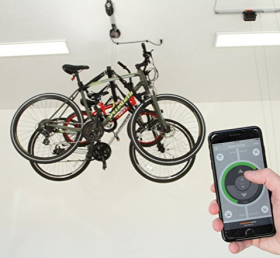 This is a great solution for hanging smart bikes to the ceiling, and the hoist by myLIFTER is designed using an exceptional mechanism. It features special slings that lift your bike/s gently without damaging the sides of the bike. It can be easily hanged to the ceiling with minimal effort.
This bike hoist is able to lift 1, 2 or 3 bikes weighing up to 100lbs. The roping mechanism is fairly simple, compared to many other products that have a difficult to install mechanism.
This product is offers unique features as the bike hoist is controlled by smartphone. The same is also IOS and Android compatible. There is also a weight sensing technology as an added safety feature.
This bike lift is able to mount road bikes, cruiser bikes, mountain bikes and downhill bikes. There is an easy installation process with minimal effort and your bikes are good to go on the hoist.
The unit also has an internal gear breaking system should the unit lose power. This is an excellent add on safety feature.
This product is suitable for families who like to bike together or for others who own more than one bike.
Pros:
First ever smartphone controlled bike lift rack
Can lift all types of bikes
Has weight sensing technology
Comes with internal gear brake system
Cons:
A little expensive
Takes a while to assemble
Check out the latest prices at Amazon
4. 1-Bike Elevation Garage Bicycle Hoist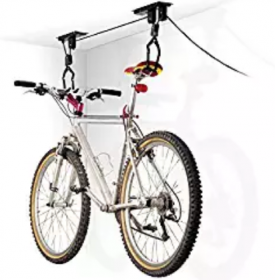 This product has a simple mounting mechanism to the shed ceiling or in the garage. The pulley mechanism allows you to hang your cycles to up to 13 ft. high without the stress of accidental release. It is a convenient storage system for outdoor rooms that also may keep the thefts at bay.
This set comes with adjustable claws that are easy and simple to integrate to the handlebars and seat for best support. It also features a tie-down bar rope which secures the bike. The accessories included in the box are tie-down bar, ceiling pulleys, mounting screws, pulley hooks and hoist rope. It has a weight capacity of 44lb.
This elevation hanger is mainly designed for garage storage. The manufacturing is strong and sturdy, preventing any kind of damage to your bike. You may need additional screws while installing the product, depending on the spacing.
Pros:
Heavy duty construction
Simple mounting mechanism
Has a weight capacity of 44 lb
Easy to install
Cons:
The screws could be better
The rope is light
Check out the latest prices at Amazon
5.Arltb Bike Lift Hoist for Garage Bicycle Ceiling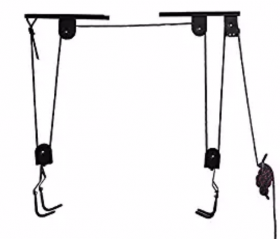 This product comes with a strong pulley mechanism that allows you to mount bikes easily. It can hang to all locations, with ceilings of all kinds. The hardware is strong and durable with an ideal steel construction that has lasting benefits.
This product comes with a special safety lock mechanism that prevents accidental release of the bike while hanging to the ceiling. It is designed to maximize space utility by safely hanging your bike to the wall when not in use. There is no limitation of how long the bike can stay attached to the ceiling, as it remains safe once safely mounted.
The pulley system allows you to attach the bike with the hooks.The latches and pulleys are smooth, allowing easy lifting of the bike. It has the ability to lift a bike to up to 12 feet high. A strong construction with durability, the nylon ropes are tough and can handle heavy duty bikes.
The total weight capacity of this hanger is 50lbs. The package includes a bike lift rack, hardware accessories, mounting system, rope and pulley system.
Pros:
Complete accessories
Easy to install
Prevents accidental release with sturdy and strong hooks
Cons:
Locking mechanism could be better
Check out the latest prices at Amazon
6.Racor PBH-1R Ceiling-Mounted Bike Lift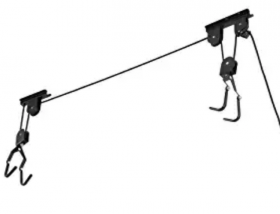 Racor PBH-1R is an in demand bike lift which comes with an easy to use pulley system that allows lifting and lowering of the heavy duty bikes easy. It has a weight capacity of 50 pounds, and can be lifted to a height of 14 feet, although recommended to stay till 12ft.
The rope lock system is unique, ensuring that the bike stays safe when hanging for a long period of time. Keeping the bike off the floor maintains the utility of space and also prevents damage. Unlike many other similar products, this product has the advantage of easy installation. You can install the product within minutes. The only extra tools you may need is a screwdriver and a drill. The instruction manual is helpful and easy to understand.
A solid steel construction with nylon ropes, this product has good durability. The lifting mechanism works smoothly and the 48 foot rope ensures that the bike is tied with as much strength as possible. Several people find the lowering system of the bike hangers fairly difficult. In the case of this product, you experience a simple lifting and lowering process that requires minimum effort.
Pros:
Cons:
Check out the latest prices at Amazon
7.MVPOWER Ceiling-Mounted Bike Hoist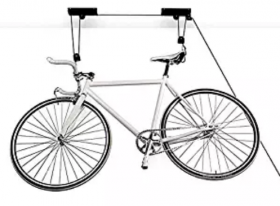 Bike Hoist by MvPower features the ability to lift 45 lb weight. This product is mainly designed for standard everyday use bikes. It is a solid steel construction with beautifully knitted nylon rope. The hooks have a rubber coating which prevents the cycle from scratches. The safety engineering mechanism ensures that there are no accidental release.
The product is easy to install with an instruction manual that is helpful. You receive all the accessories that come with it. The lifting and lowering of the product requires minimum effort.
Pros:
Good quality steel construction
Ideal for small and standard bikes
Comes with all accessories
Cons:
Difficult to install
The design is not impressive
Check out the latest prices at Amazon
8.Hanging Bike Rack | Super Space-Saving Mounted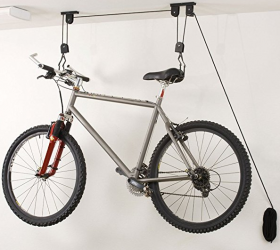 A good space saver, this product has the highlight feature of allowing easy mounting of the bike to the garage wall. A user friendly design, it takes minutes to rack and mount the bike. It comes with an adjustable rope that can be lowered with minimum effort.
The rope can be adjusted and wrapped around easily to the mounted cleat. The hooks are coated with rubber which ensures that your bike remains safe from all kinds of damage an scratches. The thick rope has the ability to withstand almost 100lb of weight, with safety locks preventing accidental release.
The product is designed using a high quality aluminum alloy. The crack free hooks and the rope together have the ability to lift the bike to 12 ft. high. The rope comes as 32 ft. long, therefore there is no stress of length.
If you are worried about storing your bike indoors, you can now easily mount it outside without worrying about theft or rust. This high quality material is not only prone to rust but also offers a lifelong warranty of the material's durability.
Because of its good design, it can also be used as a decorative element. The total weight of the product is 3.7 pounds, excluding the weight it can carry.
Pros:
Can be hanged to the wall easily
Rubber coated hooks
Made of strong aluminum
Designed to last long
Cons:
It may take time to install the product
Check out the latest prices at Amazon
9.FLEXIMOUNTS 4×8 Overhead Garage Storage Rack Storage Rack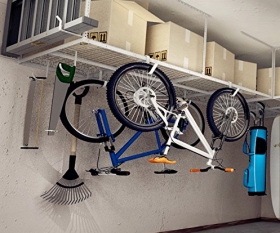 Another useful product for people who already have a bike space planned and only wants to rack it safely. FLEXIMOUNTS has a great storage utility with long ceiling brackets. These brackets can be attached with the studs for ideal convenience. Such storage hangers can be combined with almost six posts to ensure that the bike hangs to the structure safely.
The screw designs have good quality and can withstand different styles of racks. It can protect your bike from water and dirt. The overhead racks provide safety with a weight capacity of 600lbs. It has a unique design with the instruction manual giving clear instructions about the wires and frame. All accessories are included.
Pros:
Unique mounting facility
The screws and the studs have a long-lasting design
Can carry up to 600lbs
Clear manual instructions
Cons:
Delivery issue complaints
May require time
Check out the latest prices at Amazon
Conclusion:
All the above listed products are reviewed on the basis of company claimed features and customer reviews. It is recommended to rely your purchase based on the quality and weight of your bike. Consider the space where you may be hanging your bike to ensure that all the features of your selected product match your needs.