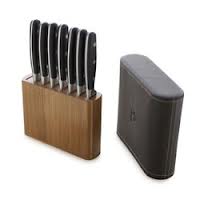 The sharp and sturdy steak knife is an essential cutlery tool in the kitchen. The utility, comfortability and the durability of these knives makes it an important tool and a notch above the regular kitchen knives. They not only look and feel elegant but also assist is cutting through the tissues of meat and fat with ease.
The serrated steak knives have always been highly demanded than its counterparts: the straight edged knives and the micro serrated edged knives. These serrated knives can continuously cut through meat without being bothered to sharpen the knives after every half a dozen of steak. The straight edged and micro serrated knives can needs to be sharpened at intervals. Again, of the two the micro serrated knives are better than straight edged.
The J.A. Henckels Eversharp steak knife set:
This set contains eight knives with high quality blades which are micro serrated at the edges. The balance and the durability are provided by the Triple riveted handles.These dishwasher safe knives are rust resistant, corrosion resistant and also steel resistant. The stainless steel design of the knife can perfectly match any cutlery set on the dinning table. Thus it is a perfect gift set; comes with a lifetime guarantee from the manufacturer.
Wusthof Gourmet knife:
The four piece serrated knives have 4 ¾" stainless steel blades made of high carbon. The poly handles are tripling riveted for maximum support. These full tang steak knives, with hand toned razor like sharpness blade, can cut and chop steak with ease. Hand washing is recommended for maximum productivity.
Victorinox Swiss set of 4 stainless steel serrated steak knife:
This beautiful red knife has a polypropylene handle. The stainless steel blade is made from high carbon. Most importantly the ergonomic design of the knife makes it ease to handle and greatly reduces the wrist tension. Manufactured in Switzerland; these 4.5" blade knives are highly durable and resistant to corrosion.
Rada cutlery serrated steak knives:
Manufactured in the USA; this set contains six pieces of steak knives beautifully placed in a plastic wall case. The high carbon stainless steel quality of the blades with razor sharp edges makes them ideal for everyday use. The silver polished aluminum handles complete the elegant look of these knives. Along with a lifetime guarantee the company advises on hand washing the knives and immediately drying it after use.
Ginsu essential series steak knife:
These ordinary looking knives have given close competition to many elegant and beautiful looking knives. Being rust resistant and stain resistant the stainless steel blades are dual serrated. The double edges of the blade reduce the tension of sharpening them time and again. It also gives a precise cut to the meat or fat. The handle is very ease to hold and since it is triple riveted the knife provides great strength and balance. There are many other varieties offered by reputed manufacturers. The most running or demanded models have been quoted above.