Handy Folding Work Benches
Work benches are a necessity for DIY enthusiasts and people who are always doing renovations around the house. Moreover, professionals or small scale carpenters also need work benches.
There are many options available in the market but the most preferred is always the folding type since it offers much more versatility. You can simply pick up your work bench and go work outside in the yard if the weather is nice or you can work in your garage if the quiet is what you need. Also, these benches are quite easy to store as they are compactly built.
1.Keter Folding Work Bench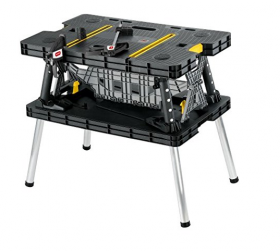 The Keter Folding Work Bench combines sturdiness and style to make the work bench as functional as possible. The bench comes with iron legs that are present for support. This allows you to keep extensive machinery or your tools on the bench and it will not give in to the pressure or the weight of your products. Plus, it has one handed clamps on both sides for keeping your project secure in place.
This amazing work table can bear up to 1000 pounds of weight and it is quite big in size with up to 33 inches in length. You might think such a heavy and big table would be hard to fold but it has a very easy foldable technology that makes it simple to use.
The table folds into a compact shape and you can keep it anywhere you want. The working surface is quite roomy but once you are done with your task, you can keep the table even in the smallest of places due to its compact arrangement. There is a carrying handle that can be used to carry the desk when it is in folded form. This is quite convenient for those people who have to work in different places.
Pros
Can be folded easily
Does not take a lot of space when folded
Has quite a lot of room for the whole work plan and the tools
Can be used for everyday tasks as it is easy to carry
Cons
May not be the right size for bigger projects. The larger tools may not fit on the bench.
Check out the latest prices at Amazon
2.Black & Decker WM1000 Workmate Workbench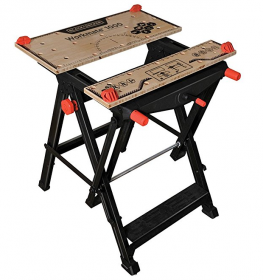 Black and Decker Workmate Workbench is the right bench for all those people who like to do DIY projects at home. The bench is made up of robust frame in steel material that makes it so much more durable.
It has enough strength to bear up to 550 pounds which is more than enough for most people who do household DIYs. The working place is made up of bamboo which makes it suitable for use. The work space is enough to accommodate your work plan as well as your tools and machines.
The work place is at the right height which is convenient for an average user. This makes the whole DIY Process even easier. Also, the folding mechanism is quite easy with a single hand clamp trick. The bench can be easily folded and then carried.
So if you are someone who likes to work in different settings or you need to work in different settings for any other reason, such as renovation, this bench is the ideal work place for you.
Pros
The work surface is at the best height for working
The bench van be easily folded and carried around
The single clamp mechanism makes the bench easy to use
It is quite easy to store the bench since it does not take up much space and is also foldable
Cons
The bamboo body may be damaged by some sharp tools or heavy machinery.
Check out the latest prices at Amazon
3.Black & Decker WM125 Workmate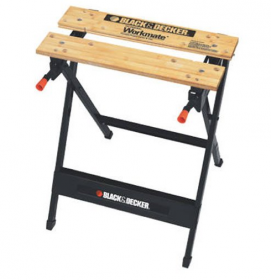 The WM125 from Black and Decker is another one of their great work benches. The first most notable thing about the bench is that it has non-skid technology. This is extremely helpful for craftsmen since this helps to prevent the sliding of projects or tools from the bench when you are working.
The bench itself weighs only 15 pounds but it can bear up to 350 pounds of weight. This makes it quite suitable for homeowners as well as anyone who wants to work in their workshop.
It has four swivel pegs and clamps on the work body so that the project can be adjusted in flexible ways. Making it easy for storage is the fact that the bench can be folded. All you need to do is fold the bench when it is not is use and the simply keep it anywhere in your workshop or in your work place such as your garage. The folded table does not take up much place and it can be compactly stored without any inconvenience.
Pros
The table has swivels as well as clamps for making it easy to adjust the work plan or your project
Can be stored even in a small place
Can be folded when not in use
Weighs very little itself but can bear a lot of weight
Cons
The weight limit is not suitable for more extensive projects or heavier machinery
Check out the latest prices at Amazon
4.Apontus Folding Work Bench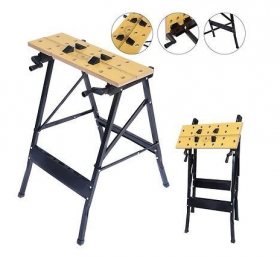 The Apontus folding work bench is suitable to use for beginners or people who have just got into DIYs. The folding table is protected against warping or swelling due to its good design as well as its sturdy build.
This product has been made by keeping the requirements of the craftsman in mind. The frame is made up of steel which makes the bench quite durable. Also, the clamps are wooden to hold the tools or the papers in place.
The table is quite sturdy but at the same time it also is very stylish and will give your workplace a classy look. The bench holds up to 220 pounds weight which is quite suitable for smaller tools as well as smaller machinery. The bench can be used as a workplace or as a saw horse. It may also be used for painting or even for cutting.
Pros
Use for various purposes such as cutting, painting or as a sawhorse
Fold and store for use later
Has clamps to hold the project in place
Cons
The weight limit is not suitable for those people who need to use larger machinery
The work surface is not wide enough for larger work plans or papers of larger size
Check out the latest prices at Amazon
5.GoPlus Folding Work Bench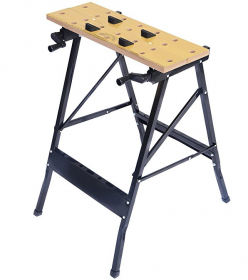 GoPlus Folding Work Bench is a portable work bench that you can take to your lawn or your garage wherever and whenever the need be. It is quite compact and easy to fold when not in use.
The bench is quite light weight itself and can hold up to 200 pounds of weight. This is quite sufficient for smaller tools and garage DIYs. It has a steel frame and wooden vise jaws that make it suitable for use for multiple purposes. The bench is useful for cutting or even for painting.
There are clamps to hold the paper in place while you cut or you paint. The bench weighs 9 pounds and is 29 inches in length. The wooden jaws prevent any kind of warping or swelling. This ensures that your work stays secure and is not damaged by the work place.
There are swivel pegs that are adjustable when working with awkward or inflexible shapes. The bench provides a sturdy surface for working and the frame is also quite durable to hold the weight of the whole project.
Pros
Easy to fold and put away when not in use
Is compact and takes very little storage space
The swivel pegs are ideal for adjusting any uneven or inflexible shapes
Good for cutting since the work body is compatible for cutting tools
Cons
Check out the latest prices at Amazon
6.Finether Multi-Purpose Folding Workbench and Vice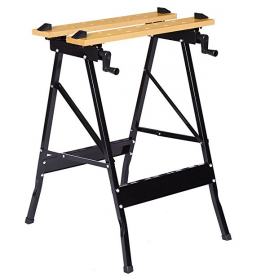 The Fineather work bench can be used for multiple purposes. It can serve as a sawhorse and may also be used for cutting or painting. The design of the product is quite compatible with woodwork projects and it is good for repair projects. Thus, the bench is useful for DIY enthusiasts or professionally by carpenters.
The product is long lasting as it is made up of MDF and steel material. These materials are very durable. The bench comes with holes for easy drilling. It can be folded and stored in a very small place. As the bench only weighs 4.5 kg, you can hang it on the wall of your garage or your work place. Alternately, you can keep it in your workplace under any desk or behind the door.
The non-slip surface is great for keeping the bench in place and to ensure that it does not scratch with your floor. The bench measures 56 by 20 cm and that offers quite a lot of room for working. In addition to that, there are also scales and protractor printed on the sides of the table, making it at even better choice for people who need to do wood work or make DIYs that involve measurements.
The adjustment of clamps follows two courses, either together or independently. This gives you the liberty to use both hands on the tool. Also, there are swivel pegs that let you adjust oddly shaped objects in place.
Pros
Has protractors and scales for easy measurements
Good for wood work or even for painting
The swivel pegs allow adjustment of oddly shaped objects
Cons
Check out the latest prices at Amazon
7.WORX Multifunction Work Table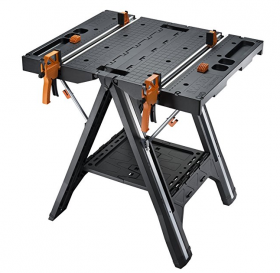 The WORX multifunction table is one of the best choices in the market right now. You can use it for cutting any project that uses varnish, glue or whatever else. This sturdy bench made up of durable materials can hold up to 300 pounds of weight which is just the threshold that most DIY enthusiasts need.
With two clamps and four dog clamps, the bench offers a lot of choice when it comes to adjusting your material easily. The bench is foldable when not in used. Just carry the bench around in its folded form and keep it anywhere you want to secure it or store it.
The bench is easily convertible from one form to another. One second it is your work table and next minute, it can transform into a saw horse. With leg log mechanism, the bench is quite safe despite the transformation from one form to another.
Pros
Can fold and store in a safe place
Has swivels for adjusting objects
Can use for painting or cutting DIYs
Can use as sawhorse
Cons
If not handled properly, the bench may get damaged when changing forms
Check out the latest prices at Amazon
8.Professional Woodworker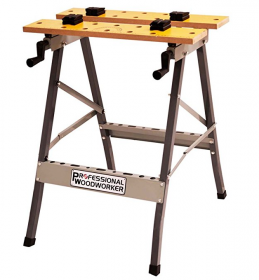 Professional woodworker is a folding bench that is best for people who are fond of woodwork or are woodwork enthusiasts. The bench has an adjustable 12 to 5 on inside to outside dimension and a 4 to 4/5 inside to inside dimension. You can fold it when not in use so that the extra space in your workplace is not covered up or your work place does not look cluttered.
On the edges, a protractor is present to make it easy for the woodworkers to carry out their measurements. This inbuilt measuring apparatus makes the task easier and more convenient for the user.
Pros
Best for wood workers
Features a useful protractor
Offers foldable storage
Cons
The surface may be small for bigger projects.
Check out the latest prices at Amazon
All these work benches are quite an
excellent choice since their design
and material is well-thought out by the manufacturers. You can choose the one that is well-aligned with your requirements. There are so many options to choose from and the one with the most suitable features for your
needs can be your ultimate
choice.