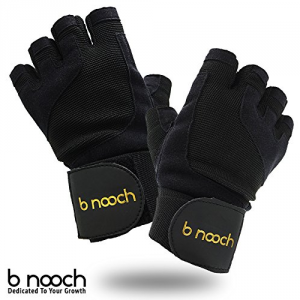 Cannot focus on weight lifting because you worry about your hand getting calluses? Weightlifting gloves are a solution. Designed to improve your workout without wrecking your hands, weightlifting gloves are an ideal way to improve your protection and your grip to help you to lift more. Great workout tool to have for any lifter.
1.Harbinger 143 Men's Pro FlexClosure Gloves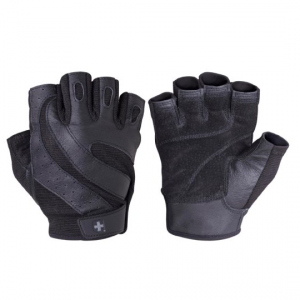 Now you can focus on lifting the weight without worrying about your hands getting blisters with the Harbinger Men's Pro FlexClosure Gloves. These gloves feature an adjustable writ closure for a snug but comfortable fit. Thanks to the stretch "Ventilator Mesh", your hand and fingers can bend naturally and have cool comfort. The abrasion resistant leather on the palm maximizes glove wear. Also features short finger length for reduced unwanted bulk, double stitched for enhanced durability, as well as fully adjustable wrist closure.
Check user reviews and latest prices on Amazon
2.Weight Lifting Gloves With Wrist Support For Gym Workout, Crossfit, Weightlifting, Fitness & Cross Training – The Best For Men & Women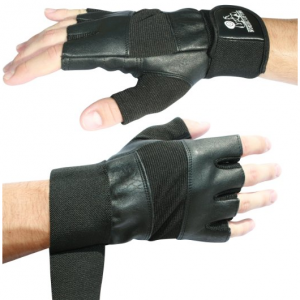 Provide hand and wrist protection for weightlifting with the Nordic Lifting™ Weight Lifting Gloves. Carefully crafted with premium quality leather and reinforced stitching, these gloves features strategically padded palms and provide the best grip for both men & women. The integrated wrist wraps provide the right amount of support. Suitable for both beginners and more seasoned fitness people.
Check user reviews and latest prices on Amazon
3.B Nooch™ Premium Gold Label Weightlifting, Crossfit (WOD), Fitness & Workout Gloves with Wrist Wrap Support for Men & Women (Black)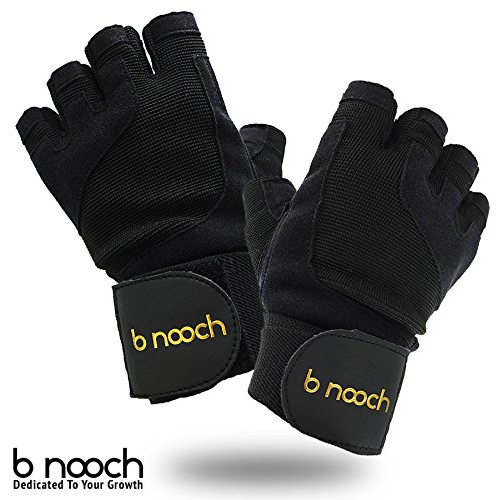 Tired of gym gloves with little support and almost no padding? The B Nooch™ Premium Gold Label Weightlifting gloves are for you. These gloves offer the right amount of padding, grip and wrist support to give you exactly what you need in a workout glove. Made with super strong synthetic leather palms, the gloves also help you grip for heavy deadlifts. The open-cell foam finger cushioning provides support for pulling exercises. Well made and durable, these gloves will last for years to come.
Check user reviews and latest prices on Amazon
4.Meister Wrist Wrap Weight Lifting Gloves w/ Gel Padding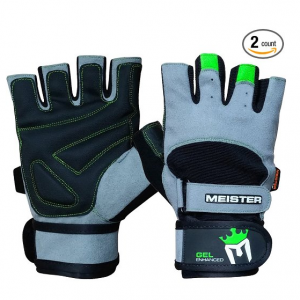 Save your hands and wrists from a lot of unnecessary pain with the Meister Wrist Wrap Weight Lifting Gloves. The gloves feature Dual Velcro strap closures to stabilize and secure the wrist. The gel padding on the palms and full foam padding coverage provides a great cushion while lifting, doing machine workouts or cross-training as in Crossfit. They also feature permeable mesh backing allowing the hand to breathe. Built to last.
Check user reviews and latest prices on Amazon
5.Harbinger 1250 Training Grip WristWrap Glove,Black/Grey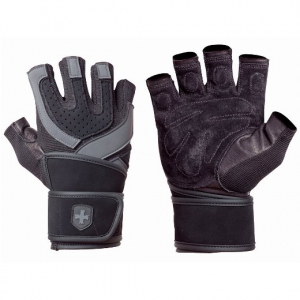 If you are a frequent lifter and need something to provide comfort and support for your hand and wrist, you will love the Harbinger Training Grip WristWrap Gloves. The weight training gloves have patented WristWrap® that stabilizes wrist with adjustable but gentle pressure to keep your wrist in proper position while training. The TechGel™ Comfort Pads on the palm mold to your hands to protect them from the stresses of active training. Hand wash.
Check user reviews and latest prices on Amazon