Getting the Best Garden Twine for All Your Gardening Needs
Twine is an everyday use item that is very useful. It is a solid string using two or sometimes more strands twisted together and used for many different purposes. Typically twine gets made from several materials like hemp fibers, cotton, nylon, sisal and similar synthetic materials.
There are two different types of twines. Natural twine and synthetic twine. Synthetic twine uses materials like nylon, polypropylene and acrylic. These come in coatings which makes them stronger due to their ability to resist water. They are not very expensive, are resistant to oil, water rot and abrasion. Natural twine, on the other hand uses cotton, hemp, silk, jute or flax. Most is biodegradable and may be composted when you finish using it.
You can use twine for many at home projects including gardening. Some of the best twines that the market has to offer include the following options:
1.50M Wrap Gift Hemp Rope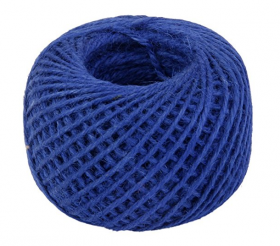 The 50M wrap Gift Hemp rope twine is an ideal product to be used in making crafts, packing and decoration at home, garden, school or office. It is ideal for smaller jobs but can also be used outdoors in the garden to trellis and vine plants. You can also use the same to hang your hanging flower pots and for other decorative and non-decorative purposes outside. The twine is gentle enough to not damage plants when tying or training them yet strong enough to hold them in place.
The length of the twine is 50M and it has a diameter of 2mm. The twine is durable and very strong that means it is not going to break easily so it can be used to hold or tie things too. The hemp twine can also be used to tie up delicate training plants.
Pros:
Strong and durable
Can be used for many purposes- Multipurpose product
Not expensive
Cons:
Some customers complained about the quality not being very good
Color fades away with time
Check out the latest prices at Amazon
2. KingfisherGarden Twine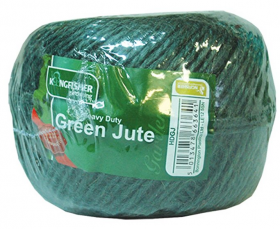 The Kingfisher Green Jute Garden Twine is a heavy duty garden twine. It is a muted camouflage green which blends well wherever it is used, especially around plants.
The Kingfisher twine is very strong and therefore will not break and can be used for rough purposes. It is a great use in the kitchen or garden as it is perfect to tie up plants and training jobs in the garden. Since it is a natural fibre, the twine will rot away eventually and can be composted. It may suit environmentally conscious gardeners well.
Pros:
Strong and durable
Great for kitchen and garden use
Good quantity of the rope
Cons:
Some customers complained that the color of the twine was not actually green but beige or brown
The twine eventually disintegrates which according to some customers is not a good thing
Check out the latest prices at Amazon
3.Bond Green Jute Garden Twine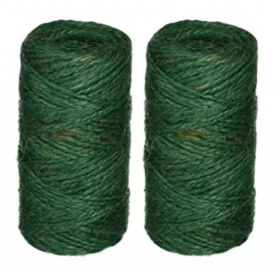 Garden twine is a necessity in the garden which is used quite often. It can be used to tie up plants to stakes, or to mark straight rows when planting and making various support systems etc. This garden twine comes as a pair of 200 feet of twine in each roll which is biodegradable.
That means it is ecofriendly and is a perfect accessory for gardening purposes. The color green is ideal as it will blend well with the color of the plants that you have tied with it.
As an added perk, this twine is also made from natural fiber that is mildew resistant. The quality of the twine is fairly good and it can also be used for indoor and outdoor purposes such as decorating containers, floral arrangements, household and arts, a range of horticulture as well as crafts.
Pros:
It is biodegradable therefore it is a perfect product for people who want their projects to be environment friendly
For a relatively thin twine, this jute twine is pretty strong
The green color blends well with the plants
Cons:
This product is not a good option for those who want their things to last longer as this twine is biodegradable
Color might fade with time
Check out the latest prices at Amazon
4. Vivifying 2mm Jute Twine, 328 Feet x 3 Rolls Natural Garden Twine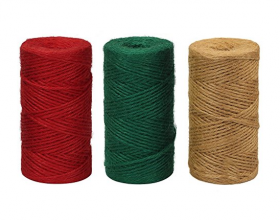 The vivifying 2mm jute twine is a biodegradable hemp which comes in a pack of three with the colors red, dark green and brown. The length of each spool is 100 feet. The thickness of the twine is 0.8 inches or 2mm with a weight of 310g or 10.9oz.
The twine is packed on a coil which makes it very convenient to use. It can be cut easily so you can freely cut the length you desire. This twine should be kept away from open flame.
The vivifying jute twine is best used for indoor projects such as Christmas gift wrapping, gardening projects, wedding decorations and crafts due to its beautiful bright colors. It can also be used in the kitchen to hold up your fruits and vegetables. You can get as creative as you can with these colorful twines in your DIY and gardening projects.
Pros:
Comes in three bright colors
Can be used in a variety of purposes
The quantity of each roll is good enough to last a long time
Biodegradable
Cons:
Not very strong and so cannot be used for heavy duty purposes
Check out the latest prices at Amazon
5. 2Pack Packing String Twine Heavy Duty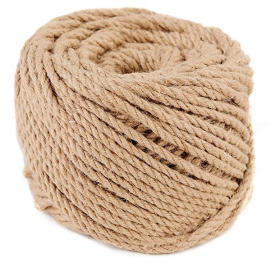 This twine is a heavy duty quality string twine which is a 3ply, 3mm, 100 feet thick jute twine that comes in a natural wood color and weighs around 6.4 ounces. It is very strong as well as durable and therefore will not fall apart and will not fray easily.
It is an eco-friendly safe material which is bio-degradable. This twine is not rough even though is strong, it will not damage the plants or any other items. Since the twine is rolled it is very easy to use and it gives a great touch feeling.
The natural biodegradable twine is a great product for gardeners. It can be used to hang down crafts wine bottles that can also be decorated with this jute. Ideal for Christmas trees, Mason jars, baby showers, gift packing, this twine is a product that can be used in a variety of different projects. The twine being soft and strong it can also be used as ribbon on presents to hang banners and photos as well as ornaments for the Christmas tree and the vegetables in your kitchen.
Also suitable for outdoor use in the garden for trellises, hanging plants, or creating a Kokedama string garden.
Pros:
Good quantity of twine
Strong, soft but not rough
Convenient to use
Cons:
Can be a little smelly when it first arrives due to the manufacturing process
Check out the latest prices at Amazon
6. Luster Leaf Rapiclip Garden Twine Natural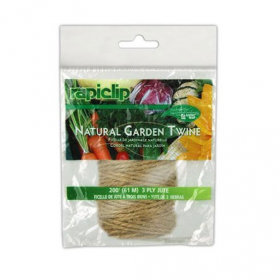 The luster leaf Rapiclip Garden twine is 200' Nat gang twine which comes in a natural light wood color. The luster leaf twine is a 3ply jute which is manufactured in China. It is a 200 foot roll which is a generous amount of quantity. The weight of the twine is 2.4 ounces and its dimensions are 2 x 2 x 3 inches.
The natural garden twine is a perfect thing to use for dozens of household projects and purposes. You can train and support plants in the garden with the help of this twine. Also, hanging pots and other decoration items in your kitchen or garden is recommended with this twine as it is pretty strong. It can also be used to support hoses and cords.
Many crafts and decorations are made using this twine because it is soft and can be tied up easily. The best feature of this garden twine is that it is biodegradable. If you use this to train your plants, it will eventually and not restrict the growth of the plant by the time it is established.
The twine can also be put to tougher outdoor gardening tasks such as training, fastening and supporting outdoor plants. You can also use this sturdy twine on trellises and vines and use it to secure cords and hoses as well.
Pros:
Cons:
Since it is biodegradable it will not last more than a year
According to some unsatisfied customers the quantity was not enough
Check out the latest prices at Amazon
7. PaperLanternStore.com Metallic Silver Bakers Twine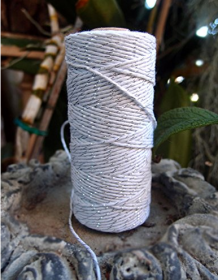 The Silver Bakers twine comes coiled on a cardboard tube and is ready to use. The length of this twine is 110 yards per spool which is 330 feet. The weight of this twine is 12 ply with the height of 4 and 2 inches width.
This twine is mostly used for decorative proposes. It comes in a variety of different beautiful colors including dark blue, hot pink, silver, gold, gray, light blue, red, turquoise, yellow and more. You can use these beautiful twines to get creative in decorating and making crafts. It can be used to hang pompom decorations, paper lanterns, for hanging bunting flags and much more. This silver bakers twine is best used by wedding decorations, table décor, party décor.
It can be used to hang crafts in your garden such as decorated pots.
Pros:
Sturdy, unbreakable twine
A great use for decorations and hanging things
Comes in a variety of colors
Cons:
It might unravel when touched too much
Check out the latest prices at Amazon
8. 30 Foot Packing Twine Heavy Duty, 4Ply 6mm Decoration Jute Twine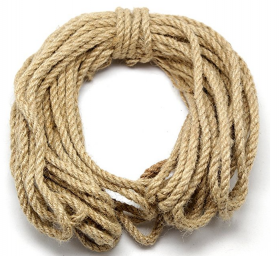 This packing string twine is a heavy duty twine. It is 30 feet/ 10 meters long, it's a natural jute 6mm, 4ply with a natural wood color. It comes packed and coiled in a roll which is very convenient to use. It feels soft when touched even though it is a heavy duty strong twine.
The twine has a high quality. It is strong and durable and will not fall apart or fray easily. The heavy duty twine will not harm the plants and so is a perfect thing to use in a garden. The thick natural jute twine is made taking into consideration the protection of environment. It is biodegradable that means it will rot away eventually. It will not restrict the growth of your plants or damage them in anyway.
The heavy duty twine is also mostly used to hang decorations such as decorated bottles, Christmas tree decorations, and party decorations make crafts and much more.
But seasoned gardeners looking to secure their gardening supplies will also find this sturdy twine handy.
Pros:
Heavy duty twine will not break easily
Thick and strong
Biodegradable so it is environment friendly
Cons:
The length and quantity might be less compared to the price
Check out the latest prices at Amazon
9.328 Foot Natural Jute Twine 3 Ply Gift Wrapping String DIY Rope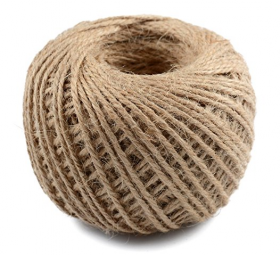 This is a 328 foot long natural twine and is 3ply.It weighs around 1.28 ounces with dimensions of 4 x 4 x 3. This natural jute twine comes packed in a roll. It is very convenient to use. You can cut off the length you want to use and coil back the rest.
It is light weight with a good thickness. With its hairy jute strings it can hold knots safely and securely. With the given length the twine will likely last a long time. You can use it for many projects such as decorations, to hold and train your plants in the garden, hang decorations, pack gift boxes, wrap around photos to make them look beautiful and make crafts with it.
Pros:
Length and quantity will last a long time
Strong and durable
Can be used in decorations
Light weight
Hairy strings hold knot securely
Cons:
Check out the latest prices at Amazon
Garden twines are a very useful product which serves more than a few purposes. You can chose the one you like from hundreds of varieties available. They come in different colors and materials. The one you decide to get should depend on how you plan on using it.