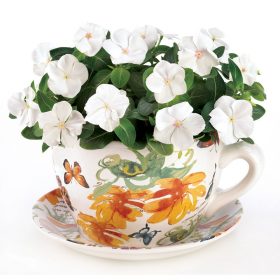 It is a good idea to spend time with flowers or green plants after busy work. That can let you taste the other funny of life so that you have a different attitude about life. The fist and most important thing are to buy flower pots for their existence. Cultivate flowers or green plants also need an exquisite pot. There are five kinds that just prepare for them. Let flowers or green plants decorate your life. What a wonderful thing!
1. Plastic Pots for Plants, Cuttings & Seedlings, 4-Inch, 30-Pack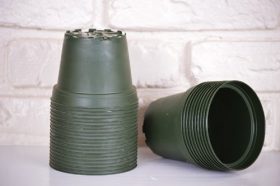 There are 19 drain holes at the bottom of these liners so your plants will never have to worry about drainage! These liners can also be used as seedling pots in the spring. The plastic is relatively thin, but it is far stronger than the seedling starting cells from garden centers. If you think the drainage holes are a bit large, this can be fixed by putting rocks at the bottom or other foam or draining material. It is perfect for seedlings or small plants. It's high-quality with professional-grade plastic permits long-term use.
Click here to purchase this product on Amazon
2. Gifts & Decor Dangling Mini Ceramic Pot Set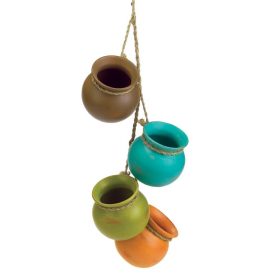 These pots are so cute, and just the right size for a mini herb garden. Put a small green spot in your room, it will let the house look more lively and fresh. Even though you are back after doing a tiring work, you will relieve your weary once you have a glance at it, and change your mood. In addition, it also can build a healthy environment for you. It doesn't take up too much space. It is a pretty nice indoor decoration. You can give it as a gift for your friends. They must love the cute pot.
Click here to purchase this product on Amazon
3. Strathwood Zinc-Finished Planters, Set of 2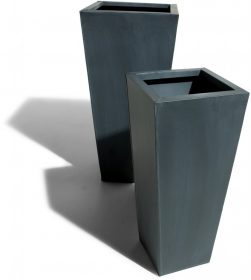 They have antique zinc-finished pots come in a handy set of two in a different sizes, and they are light-weight. The planters are more like cache pots, without drainage holes. But the metal can rust with the standing water. Besides, you need to be sure which one you use on the inside has suitable drainage. On the other hand, it's best to fill the bottom with rocks or gravel, so the roots of the plant aren't sitting in water. Otherwise, you can drill the hole by yourself. Simplistic but beautiful in design they can be used virtually anywhere.
Click here to purchase this product on Amazon
4. Fiskars 22 Inch Rolled Rim Pot, Color Clay (20-6012289)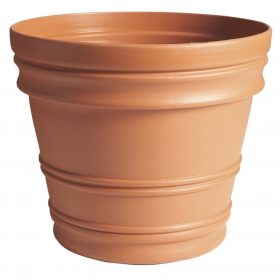 Its dimensions are 22 x 19.8 x 22 inches, which is plenty big and will allow a tree to grow to 10′ without transfer. And it will keep little furry things from climbing the tree before it can handle itself. You also can put in a group of flowers and make a beautiful display in front of the house or at your front door. The classic and elegant appearance has a smooth touch and bright lustre. It weights 6.6 pounds.
Click here to purchase this product on Amazon
5. Gifts & Decor Butterfly Print Teacup Saucer Decorative Garden Planter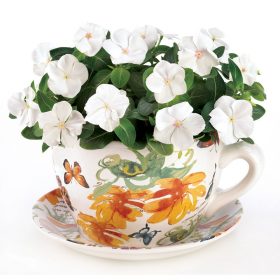 It is a kind of delightful planter in the shape of a teacup and saucer. The size is appropriate for indoor use or on an outdoor table. The painting on the planter is exactly as vivid as pictures. The colors are bright and well defined. It will be beautiful and exquisite scenery. It has a drain hole for water in the bottom of the cup for drainage, so as to keep your flowers colorful. It's very sturdy, and the saucer is a separate piece.
Click here to purchase this product on Amazon