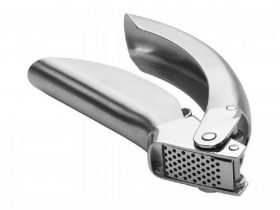 A garlic press is a time-saver in your kitchen, allowing you to easily use fresh garlic in place of jarred or dried. Garlic press is a simple device that looks a bit like the toys your kids use to make strings of play dough. Some models come with a built-in cleaner to remove garlic residue for easy cleanup. And you can choose a dishwasher safe one if you hate to hand wash it.

Press the maximum amount of pulp and juice from cloves of garlic with minimum time and effort with the help of this OXO SteeL Garlic Press. Featuring zinc and stainless-steel construction, this garlic press provides you both strength and durability. This large capacity garlic chamber easily presses many garlic cloves at once. It also comes with a built-in cleaner to efficiently remove garlic residue. Press is dishwasher safe for easy cleanup.
2. Zyliss Susi 3 Garlic Press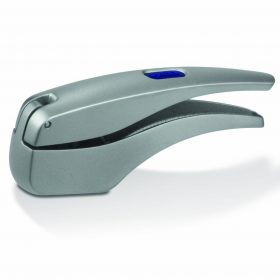 Mince garlic easily and quickly without having to peel the clove with this Zyliss Susi 3 Garlic Press. This press comes with an ergonomic handle to provide easy and comfortable use. The plunger delivers freshly minced garlic with little effort for maximum utility. Thanks to the nonstick coating and integrated cleaning tool, this unit is extremely easy to clean. In addition, all parts are dishwasher safe.
3. Kuhn Rikon Epicurean Garlic Press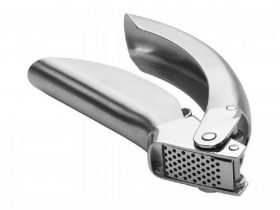 Make pressing garlic or ginger a quick and efficient work with this Kuhn Rikon Epicurean Garlic Press. This press is able to press unpeeled cloves and even press ginger, making it a solid, basic tool for any kitchen. Designed to fit comfortably into the palm of the hand, this ergonomic press requires far less effort to use than other presses. Sieve hinges out to flush clean under water or wash in dishwasher.
4. Progressive International Garlic Press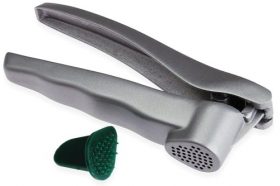 Press whole garlic cloves without the bother of peeling with this Progressive International Garlic Press. This efficient tool is made from aluminum with a non-stick coating, making it not only durable to withstand everyday use, but also easy to clean. It comes with a handy cleaner to remove the garlic skin from the holes and store inside the handle when not in use. Hand washes recommended.
5. WMF Profi Plus Garlic Press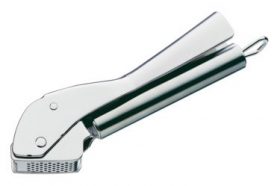 Featuring a comfortable, ergonomic design, this WMF Profi Plus Garlic Press not only functions easily but also feels good in the hand. Made of high quality 18/10 stainless steel, this press is durable. It features a sleek European design, making it an attractive addition to your kitchen. The one-piece construction makes it easy to open for cleaning. There is a loop on the end that is handy for hanging on a wall. Dishwasher safe.