Are your sweaters losing their shape due to poor drying techniques? Finding the best sweater dryer rack can be a hassle.
Hanging your sweaters when drying them can cause them to lose their shape, crease or shrink. Sometimes you may want to dry your clothes indoors, that is why you need a reliable rack that will not mess up your sweaters.
Well, maybe it is time you try out any of our 8 best sweater dryer racks.
1. OXO Good Grips Folding Sweater Dryer with Fold-Flat Legs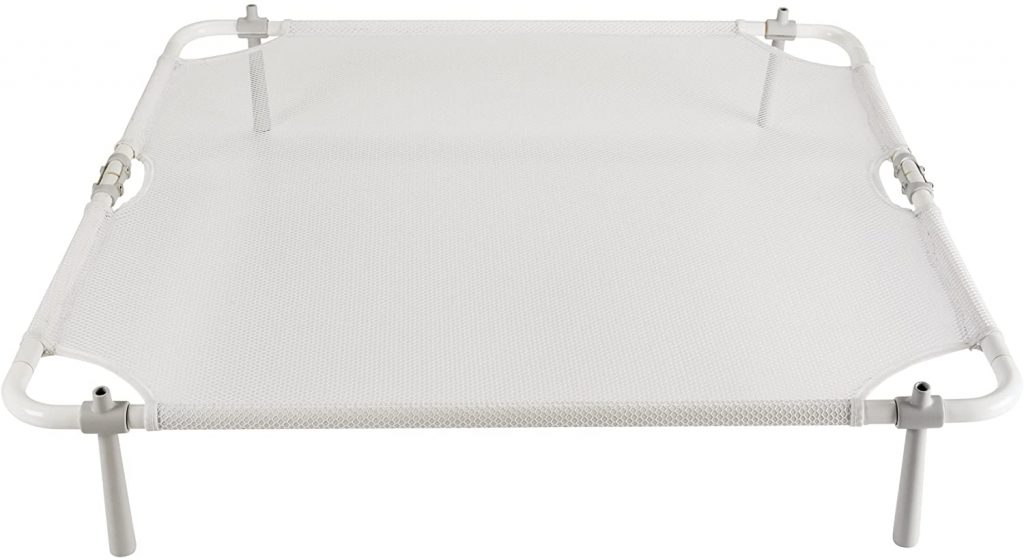 If you need an excellent drier that will not leave your sweater damp, consider going for OXO Good Grips Folding Sweater Dryer.
This drier features a 26 by 26 inch meshed drying surface to lay your sweaters for easy and fast drying of your sweaters and other delicate items. Your clothes will be easily aerated. You do not have to worry about them getting wrinkled, stretching or losing their shape.
It also has four flat legs offset from each corner that allows the dryer to fit on washing machine and countertops. The adjustable legs easily fold in while the dryer folds into a 19 by 8 by 2.5-inch compact size, making it convenient for storage when it is not in use.
This dryer is sturdy and ensures efficient stacking. It is stable, and the long legs create extra space between the layers for airing, loading and unloading.
Pros
Easy to use
PVC free
Has large drying surface
Robust to withstand the weight of heavy sweaters
Excellent design and portable
Cons
The legs are a bit flimsy
Product summary
OXO Good Grips Folding Sweater Dryer offers you a wide surface area for drying your sweaters. The meshed upper surface ensures excellent air supply for fast drying of your clothes and makes your laundry work easy. Try it today.
Check out the latest prices at Amazon
2. Household Essentials Stackable Mesh Sweater Drying Rack, White
Are you looking for a suitable dryer for your clothes? Look no further. This stackable mesh sweater drying rack from Household Essentials design allows you to aerate your sweaters, shirts and other delicate clothes fast and easily.
It features a meshed netting surface that allows free airflow and quick drip dry. All your delicate clothes will have a safe place to dry without creasing of snagging from dryers. The drying surface measures 27 by 27 inches which is wide enough to dry most sweater sizes.
It includes four legs that elevate the drying area from the ground, countertops, and washing machines at the height of 5.5 inches. This is crucial as it ensures your sweaters are kept clean from any dirt and moving dust.
The rack is constructed from PVC- free material which is rust and corrosion free, ensuring that it lasts for a longer period.
Pros
Easy to assemble
Stackable dryer for efficient drying and space-saving
Holds several clothes at ones
PVC free
Cons
Do not fold down making it hard to store
Product summary
Although this rack is not foldable, it is sturdy with a large drying surface for drying your sweaters and other delicate clothes. It is easy to assemble, lightweight, and slim enough to fit under the bed if you have limited space.
Check out the latest prices at Amazon
3. Honey-Can-Do Heavy Duty Gullwing Drying Rack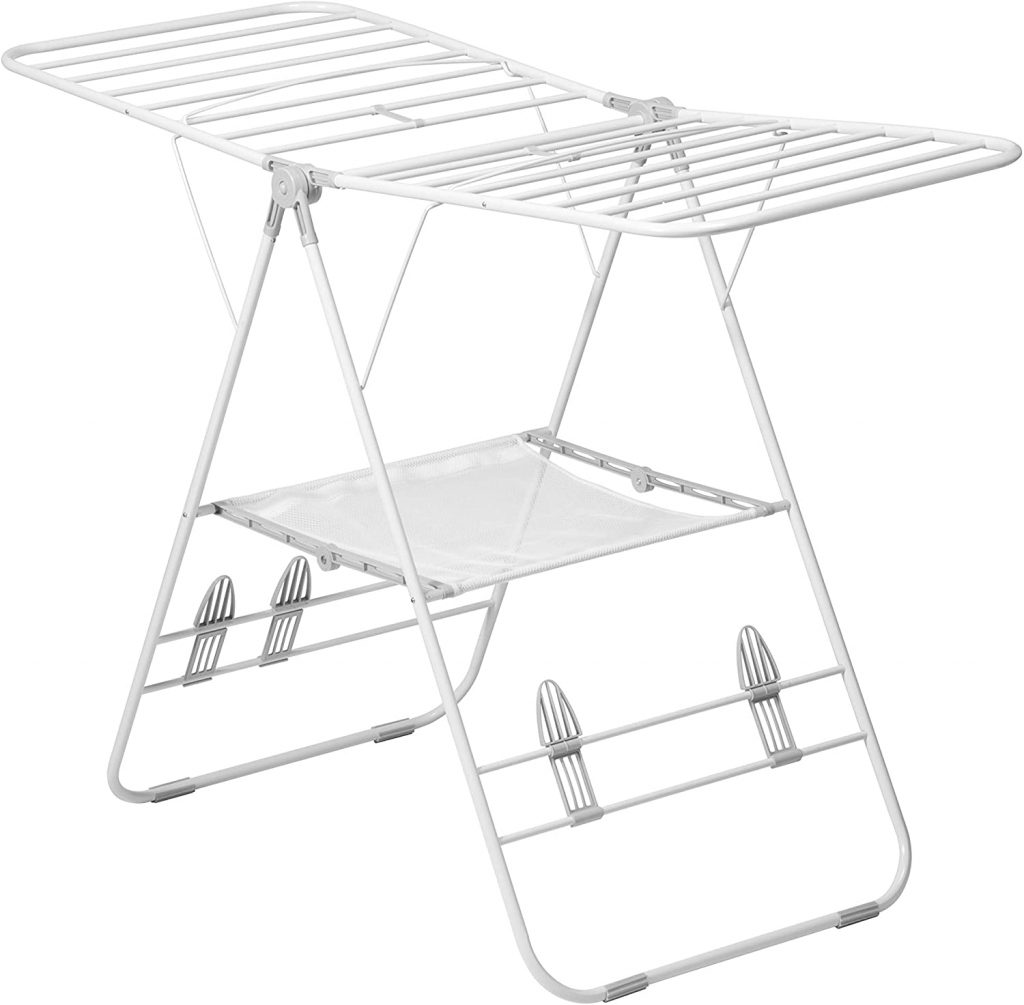 If you are looking for heavy-duty clothes drying rack, Honey-Can-Do Heavy Duty Metal Gullwing Drying Rack is worth considering. It features 46-feet linear drying space that provides you ample space to dry the clothes that can easily shrink in the dryer.
It also includes an extra underneath meshed shelf layer for drying your sweaters and more space for drying your shoes.
The rack folds up, which makes it easy to conform to any shape and configure into six various positions. You can easily fold it down to 3 inches rack for storage after use. It is made from a robust metallic material which makes it sturdy and convenient for drying heavy garments.
Pros
Foldable
Reliable, durable and attractive
Has an extra layer for drying sweaters
Suitable for multiple uses
Excellent for drying heavy garments and large load
Cons
The metal catches rust easily.
The rack is designed for multiple uses. It has a meshed layer for drying your sweaters, 46-linear feet for drying your t-shirts, jeans, and other clothes, and a section for changing your shoes. If you are looking for a versatile, sturdy, lightweight, and foldable dryer, go for Honey-Can-Do Heavy Duty Metal Gullwing Drying Rack.
Check out the latest prices at Amazon
4. STORAGE MANIAC Flat Sweater Drying Rack
Make air-drying fast and easy with this durable sweater drying rack from Storage Maniac Store. It offers you excellent space for drying your sweaters. It features a mesh netting surface that ensures equal air supply for fast drip dry. It is ideal for clothes that may lose their shape if hanged when drying.
The stackable design offers extra space between layers for quick-drying, loading and unloading. The design also saves on space used by the rack. You can use this rack to dry your toys, lingerie, sweaters and many more.
The rust-free plastic pipes hold the mesh surface in place and do not stain your clothes. Also, the mesh can be detached for cleaning and reattached back. Moreover, it is easy to assemble as it does not need tools to set it up.
Each of the sweater dryer racks measures 27.95 by 27.95 by 5.71 inches.
Pros
Has a large surface area
Easy to assemble
Ideal for heavy-duty
Sturdy and durable
Cons
Product summary
This 2 tiers rack offers you sufficient space to dry all your garments. The flat mesh fabric surface is ideal for drying all your clothes that may lose their shapes, such as sweaters and toys. It is sturdy, durable and perfect for heavy use.
Check out the latest prices at Amazon
5. HOMZ Sweater Dryer Rack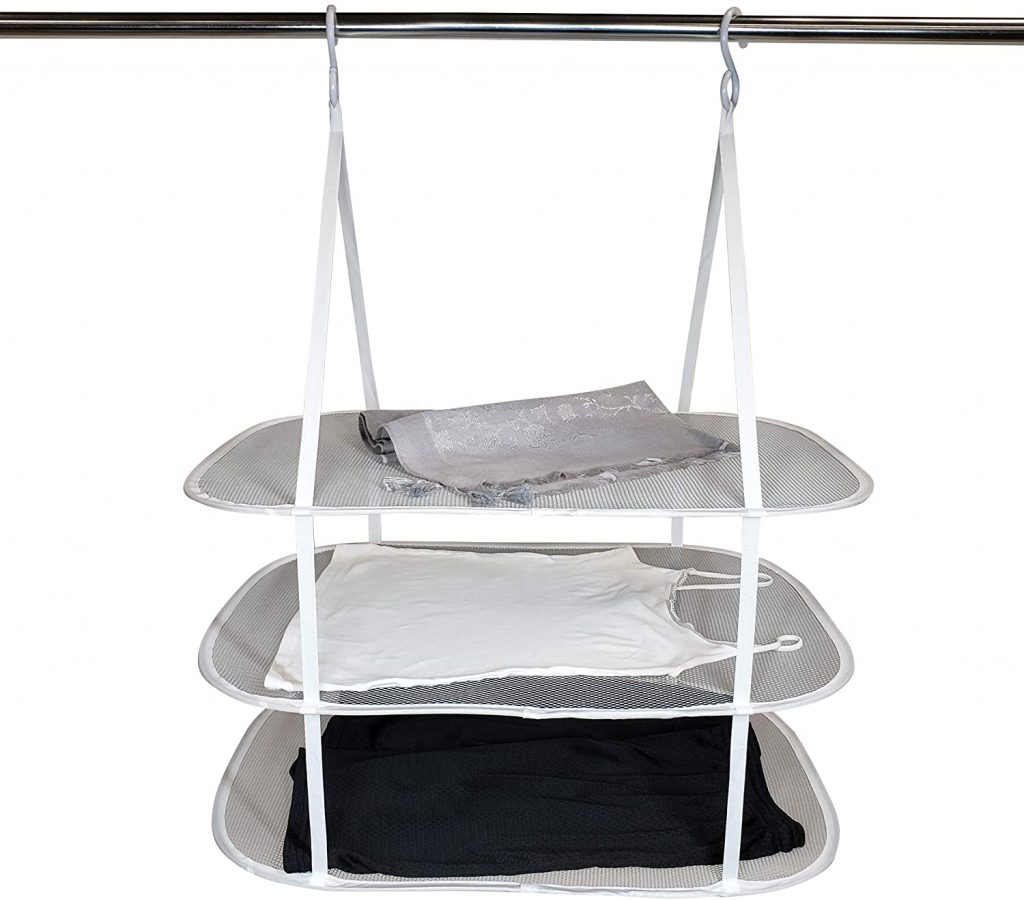 Undoubtedly, HOMZ Sweater Dryer is one of the best sweater drying racks that you should consider keenly.
It features a three tiers drying format that has a 9 square feet. Considering the weight that wet clothes have, its design allows you to hang it for better drying. The tiers are made of breathable mesh which offers room for maximum airflow and lessens the drying time.
It includes two durable plastic hooks for hanging the rack on standard shower rods for easy assembly and takedown. When not in use, it folds down to a compact size that can fit into small places. This sweater dryer rack measures 32 inches x 26. 5 inches x 18 inches.
The four hooks at the bottom allow you to hand additional dryers and create for vertical drying space. Additionally, it comes with a reusable lingerie bag for convenient storing of your delicate clothes.
You can make this your ideal dryer for all your baby clothes, athletic clothes, lingerie, sweaters and delicate clothes.
Pros
Available in black and grey colors
Bears weight up to 10 pounds
Uses little space
Can be used with extra hanging dryers
Foldable and portable
Cons
Not ideal for weight above 10 pounds
Product summary
This 3-tiers rack has a large surface for drying your sweaters. The 2 hooks allow you to hang it for at any place with good sun rays for faster drying. It also has four hooks at the bottom that allow you to hang extra dryers to create more space.
Check out the latest prices at Amazon
6. Honey-Can-Do DRY-01624 Folding Sweater Dryer, 26″ x 26″ x 6″, White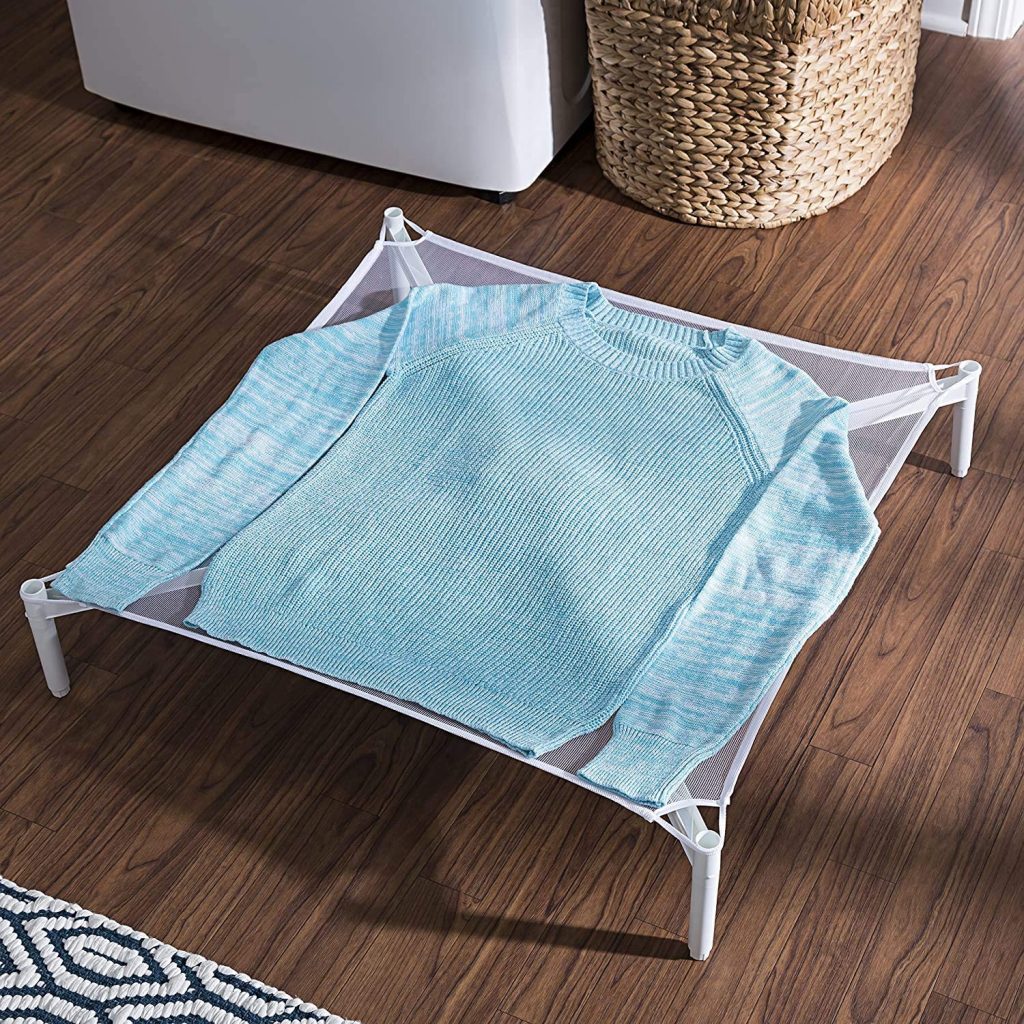 With a large surface drying area of 26 inches x 26 inches x 6inches, Honey-Can-Do DRY-01624 Folding Sweater Dryer ensures that it does what it was designed for perfectly.
The drying surface is made of breathable mesh fabric which ensures equal airflow for faster drying time. The four legs on each corner elevate the drying surface to allow easy stacking. The legs are robust to ensure that they do not break easily.
The frame has been designed for heavy use and can withstand loads of weight. Besides, this rack folds down into a compact size for easy storage. Assembling is very easy and does not need additional tools.
It will leave your garments well dried and without creases.
Pros
Easy to assemble and stackable
Folds up easily
Excellent for air-drying your sweaters
Sturdy and durable
Cons
Product summary
DRY-01624 Folding Sweater Dryer is an excellent dryer rack from Honey-Can-Do, which is a big brand. It offers you an excellent large drying surface. It is collapsible and foldable, durable and easy to assemble.
Check out the latest prices at Amazon
7. Jumbo Hanging Dryer – 54″ X 28″ – Dry Sweaters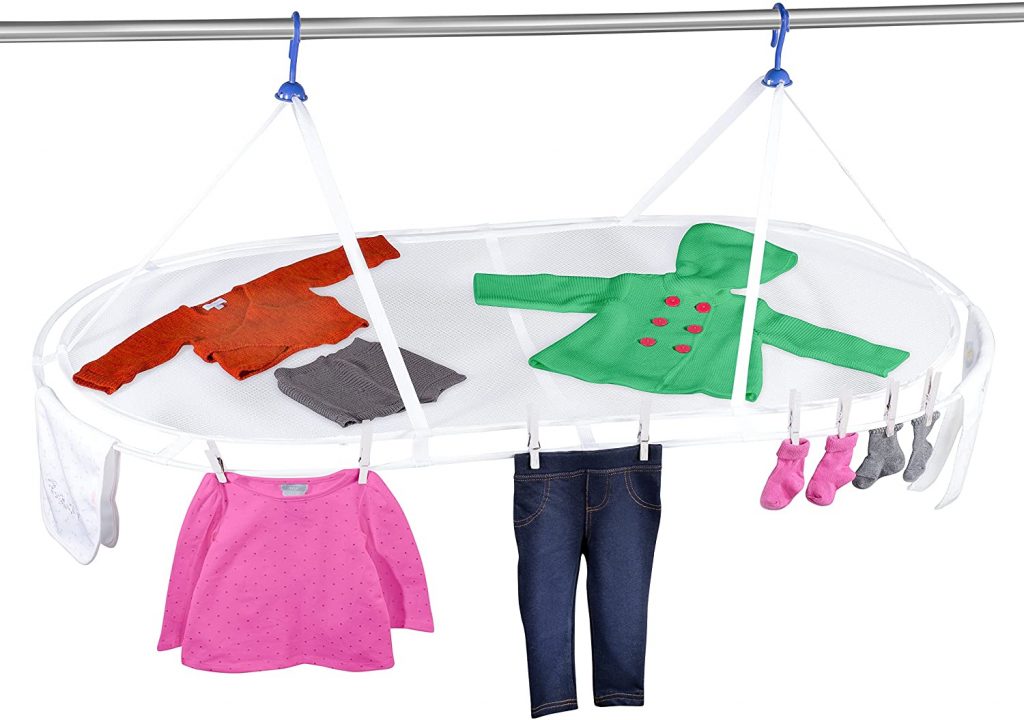 Do you want to experience a fantastic and versatile way to dry your laundry? Jumbo Hanging Dryer is your perfect solution. This drying rack has multiple uses. You can lay your sweaters and other garments that can be laid flat on the mesh platform to maintain and protect their shape.
The meshed surface is breathable to allow proper air circulation and save on drying time. For those clothes that need like socks to be hanged, there is an outer rim made for hanging or pinning them.
Besides, this Jumbo hanging dryer can be hung on clothesline or rods. When not in use, simply fold it into a compact size for convenient storage. It is ideal for use in areas with limited space.
It measures 54 X 28 when open and folds down to a 16-inch diameter when closed.
Pros
Perfect for drying lightweight sweaters
Includes an outer rim for hanging small garments
Simple to set up
Folds up easily
Cons
Product summary
Jumbo hanging sweater dryer offers you a wonderful experience. The wide drying area makes it ideal for drying your light sweaters or baby items while the outer hanging rim allows you to hang your small items for proper drying. It is sturdy, collapsible, and lightweight.
Check out the latest prices at Amazon
8. Growsun Sweater Drying Rack- 6-Layer
This 6 –layer sweater drying rack from Growsun store wraps up our list of eight best sweater dryer racks. The upper surface is made of a meshed fabric that ensures proper airflow for fast drying.
The metal poles are sturdy and provide sufficient stability. These poles are coated to protect them from rust and corrosion. This feature is vital as it ensures the poles do not stain or scratch your clothes while improving on the life of the rack. The mesh fabric easily comes off for cleaning.
The stackable design saves on space while providing sufficient drying space. Each of the layers measures 28x28x 8 inches
Besides, it is easy to install, you do not need any tool to set it up.
Pros
Perfect for drying heavy sweaters
Excellent for drying sweaters
Provides large drying area
Sturdy enough for your laundry needs
Excellent design
Cons
It takes time to disassemble for storage
Product summary
This stackable rack provides a large area for drying all your heavy sweaters. It is reliable, durable, and easy to assemble.
Check out the latest prices at Amazon
Buying Guide: Factors to Consider When Choosing Sweater Drying Rack
As you look through the different sweater drying racks, you need to look keenly into different important factors. Different brands offer different features. Let's look at some of the critical factors that you will need to look in keenly.
Design
Sweater drying racks come in various designs such as wall-mounted, freestanding, and hanging. Each of these designs has different strengths. Some are made for light-duty while others are perfect for heavy-duty.
Material
Look for a material that easily allows air to pass through for fast drying. If it has stands or legs they should be resistant to rust, stains and ones that do not cause scratches on your clothes.
The material should also be durable, lightweight and sturdy. Stainless steel and durable plastic are some of the materials you should consider when buying a sweater dryer rack.
Price
Companies with good reputation tend to charge higher for their products, but you can be sure that you will get value for your money.
But it would be best if you did not major your choice on the price alone. Sometimes higher prices do not necessarily mean quality. Consider other factors too, and ensure the product is of high quality before buying.
Capacity
Sweater drying racks have different holding capacities. Some are designed to carry large weights while others are made to carry lightweight sweaters.
Compare the maximum carrying capacity and buy one that works best for you.
Portability
A portable sweater drying rack gives you the ease of moving around with it. If you are looking for an outdoor rack, then get one that can easily fold down to a portable and lightweight size.
Most portable racks are ideal for light sweaters. If you need one for heavy use, you may consider going for a heavy-duty rack which in most cases are not portable.
Space
If you have limited space to place your sweater drying rack, look for one that easily folds down to a small size. This makes it convenient for storage.
Another factor is the drying surface. The rack should have enough space for your drying needs.
Conclusion
You can't buy a sweater drying rack every day. That is why you need to ensure that you make your choice right. With our list above, we are sure that you are now well informed and knows what to look for when purchasing any of our best sweater drying racks. Let's go shopping!