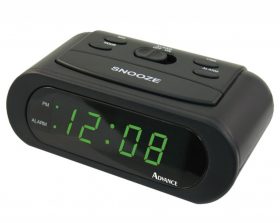 The alarm clock is a must have for everyone. The simple, practical and accurate alarm clocks, some of which have USB charging for your portable devices, are being here for you. Not only time set, temperature displayed, but also the battery backup make the time accurate and can wake you up in you setting time. Wonderful designed, those clocks will cover all you need about a clock. Just click here.
1. Magnasonic MAG-MM176K AM/FM Projection Clock Radio with Dual Alarm, Auto Time Set/Restore, Temperature Display, and Battery Backup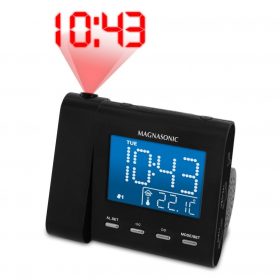 This advanced Magnasonic clock radio automatically sets the time and date and saves all your alarm settings when the power goes out. Armed with the AM/FM radio with digital station display and temperature & calendar date display in the 3.6″ LCD screen, the smart alarm clock also can connect your iPod or MP3 player. The strikingly design displayed beside your bed can wake you up in your time.
Click here to purchase this product on Amazon
2. Sony ICF-C318 Clock Radio with Dual Alarm (Black) (Discontinued by Manufacturer)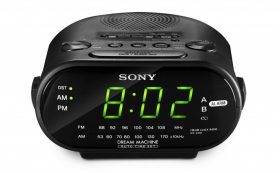 This practical Sony clock radio with super big display for easy reading comes with two independent alarms–one for you, one for your partner. Wake to radio or buzzer to start the day on time. The ICF-C318 has a 0.9″ green LED display, which is easily viewable from across the room, but takes up very little space on your nightstand. It hosts a number of features including dual alarm, extendable snooze bar, built-in calendar and full power memory back up. The battery life (Approx) is nearly up to 250 Days (with Sony battery). It is durable and practical item.
Click here to purchase this product on Amazon
3. Advance Time Technology LED 6-Inch Alarm Clock, Black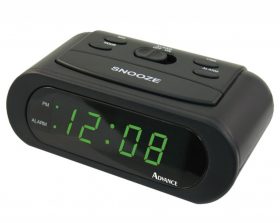 The simple, great and accurate little clock is easy to use and work well. The battery back-up works when electricity goes out, so you always have the correct time. With the executive PM and alarm on indicator, this slick, silver alarm clock is a both reliable and features bright colored display. If you are looking for simple and practical alarm clock, it is the exactly what you need.
Click here to purchase this product on Amazon
4. Timex Decorative XBBU Dual Alarm Clock with USB Charging and Night Light (Black)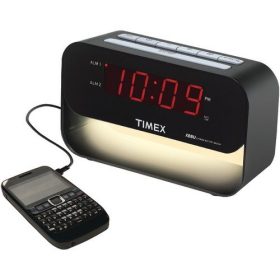 Dual alarms, nap timer, adjustable night light, extreme battery back-up system … what more could you ask for in a bedside alarm clock? How about a USB port to charge your mobile phone or portable music player, you say? Been there, done that. The Timex covers all of those. The T128 has two alarms that can be set and used independently, plus a separate programmable nap timer. It is the best ultimate convenience item.
Click here to purchase this product on Amazon
5. Electrohome USB Charging Alarm Clock Radio with Time Projection, Battery Backup, Auto Time Set, Dual Alarm, 1.2″ LED Display for Smartphones & Tablets (EAAC475)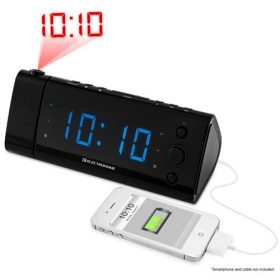 Always wake up on the right side of the bed with the USB charging alarm clock radio by Electrohome®. This device's built-in USB port means you'll never be looking for the charger of your smartphone, tablet or mp3 player again. This and a collection of other awesome features, including time projection automatic time set, long lasting battery backup, programmable dual alarm, and digital phase locked loop radio tuner, make this one reliable clock radio you can depend on.
Click here to purchase this product on Amazon