You are tired of throwing out a flimsy shower curtain liner because it tears or gets mold spots? You won't have that problem with a mildew free shower curtain liner. Mildew-resistant shower curtain prevents shower mold and mildew, keeping your shower curtain fresh and clean. So order your today and say goodbye to mildew.
1. Maytex No More Mildew Super Heavy Weight Premium 10 Gauge Shower Liner or Curtain with Rust Proof Metal Grommets, Clear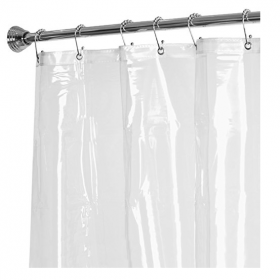 Whether you are looking for a strong shower curtain or liner behind a decorative curtain, the Maytex No More Mildew Shower Curtain Liner is a reliable choice for you. This super heavyweight, premium 10 gauge vinyl shower liner features rustproof metal grommets for an upscale look and protecting the liner from tearing around the rings. The reinforced mesh header offers added durability. The bottom magnetic hem keeps it close to the tub walls. Anti-bacterial, mildew resistant, and phthalate-free.
Check user reviews and latest prices on Amazon
2. Mildew-Resistant Antibacterial Heavy-Duty Shower Curtain Liner – 72″ x 72″
Have to throw out a lot of shower curtains because they always quickly catch mold? Not anymore. This Mildew-Resistant Shower Curtain Liner by Epica will keep mildew, molds, and bacteria from growing on it. This liner is substantial and can stand on its own as a shower curtain. It features reinforced nylon mesh header with rust-proof metal grommets. Measures 72″ x 72″ to fit standard size tubs. Easy to clean.
Check user reviews and latest prices on Amazon
3. Mildew Resistant Washable Polyester Fabric Shower Curtain Liner, Elegant White Damask Stripe, No PVC, STANDARD Size (71 inches Width by 71 inches Length)
Need a solution for beating shower mold and mildew without sacrificing style? The Kimberly-Carr Home Designs Polyester Shower Curtain Liner is for you. Made of water repellent polyester material, this liner is PVC-Free so no harsh chemical smells. There is a non-corrosive, subtly weighted hem to keep it in place. Also features rust-proof metal grommets with a reinforced header. Machine washable to let you keep your liner clean.
Check user reviews and latest prices on Amazon
4. My Stunning Abode Shower Curtain Liner PEVA (Clear) w/ 6 Bottom Magnets & Reinforced Grommets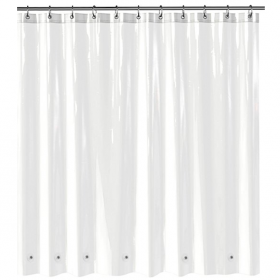 Odorless, PVC-free, mold and mildew resistant, and Chlorine-free, the My Stunning Abode Shower Curtain Liner will give you the best. Built to last, this liner features reinforced metal grommets that hang easily using any standard hooks or rings. It is made of thicker PEVA material that won't tear or rip and easily wipes clean for convenience. 6 strong magnets encased along the bottom to provide weight and stability.
Check user reviews and latest prices on Amazon
5. Premium PEVA Shower Liner / Curtain: Odorless & Mildew Resistant (with Magnets & Suction Cups). Eco Friendly 70 x 71 inches long – White Color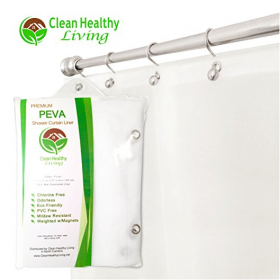 keep water in your shower, not on your bathroom floor while protecting your shower curtain with this Premium PEVA Shower Liner. This liner is non-toxic, odorless and includes mildew protection to prevent mildew from forming on the bottom. The rustproof metal grommets and magnets along the bottom keep it from blowing around. You will also love its 8 small suction cups to help keep it in place. Perfect for every bathroom.
Check user reviews and latest prices on Amazon